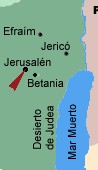 Section 13: The Passion of Jesus (Passover 30 - Thursday night and Friday)
Jesus and the apostles cross the city towards the garden of Gethsemane, outside Jerusalem (Thursday night). Peter, James and John witness the agony of Jesus, who prays to the Father and is comforted by an angel. Soon Judas arrives with the soldiers; Jesus is arrested and the disciples forsake him.
The ecclesiastical trial begins: at first he is led to Annas, who sends him to Caiphas (after midnight). It follows a first examination before Caiphas and the priests of the Sanhedrin, when Jesus confesses and is condemned. Peter denies him and Jesus is mocked and beat by the Jews. About dawn (Friday) the Sanedrin meets and ratifies Jesus' condemnation; he is sent to Pilatus. Meanwhile Judas repents, despairs and dies.
It begins then the civil trial , before Pilatus. After a first examination, he sends him to Herod Antipas. Jesus keeps silent, is mocked by Herod and sent back to Pilatus dressed in purple. Pilatus declares him innocent but, in order to please the jewish priests, he let the people choose between Jesus and Barabbas; the people prefers Barabbas' liberation. Jesus is flogged, crowned with thorns and exposed to the people: "Ecce homo!"; the Jews insist on requesting his death. Pilatus examines Jesus again brings him out to the Jews, and wash his hands; finally, he reluctantly sentences him to be crucified.
(Friday morning) On the way to the Golgotha carrying the cross, Jesus is helped by Simon of Cirene; he speaks to the mourning women. He is crucified, between the two robbers. The soldiers divide his clothing, the passing people blasphem and mock at him: "Save yourself, if you are the Son of God!". He pronounces the last Seven words: 1: "Father, forgive them...", 2: "Today you will be with me in paradise", 3: "Woman, behold your son...", 4: "... why have you forsaken me? ", 5: "I am thirsty...", 6: "It is finished", 7: "Father, into your hands...".. About noon, Jesus dies, the sun is darkened and the veil of the temple is torn in two.
After a soldier pierces his side, he is taken down from the cross and buried by Joseph of Arimatea (Friday afternoon).
On the Sabbath day, while the women prepare the ointments, the pharisee place a guard at the door of the tomb.